This suite of work consists

of 177 ink and colored pencil portraits. The objective is to illustrate how each human is connected to all others in origin, thus entitled to membership in the 'FAMLY', regardless of skin color or any other anomalies. In this population there is no exclusivity, and all are worthy of respect and opportunity.

These faces

represent the human community.











Who are they?
"THEY ARE US!"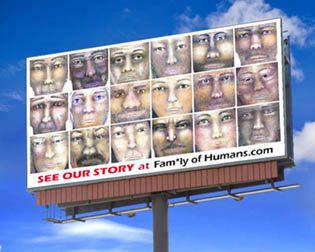 www.lindalouisart.com

More 'Famly of Humans' on
Instagram


* 'Famly of Humans' does not include the letter 'i' … emphasizing that 'WE' ARE ALL 'FAMILY'.

Wordlessly, they ask:


"Can you view me with an open mind?"

They hope to show that bias

is charged with self-defeating outcomes … and that we all belong to one 'Famly of Humans'.